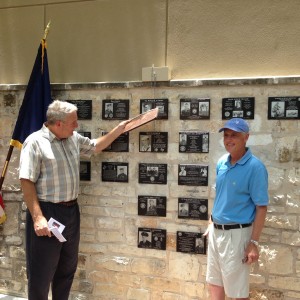 Friday, we were in Fredericksburg, Texas to dedicate a plaque to my Dad and Granddad on the wall of the Nimitz/Pacific War Museum. Set out below is approximately what I said.
"I am a pastor, and so I get to teach Psalms periodically at our church. People who have never studied Psalms are often amazed at how many Psalms are simple retellings of the history of Israel. (See for example, Psalm 78). The Jewish people knew from bitter experience the importance of remembering the past.
In Psalm 77 the psalmist says the following:
I will remember the deeds of the Lord; yes, I will remember your miracles of long ago. I will consider all your works and meditate on all your mighty deeds" (Psalm 77:11-12).
One of the frequent teachings of Scripture is this: The people of God are inclined to forget the mighty acts of God and his merciful provision and thereby bring judgment upon themselves and their societies. This is a principle with secular as well as spiritual application. When a people forget what has been done for them by prior generations a curious pride and foolishness—a taking for granted of blessings—develops. The result is misery. We live in a time when rediscovering the importance of honoring the past and what has been done for us is an important priority.
There are a lot of men and women honored on these walls.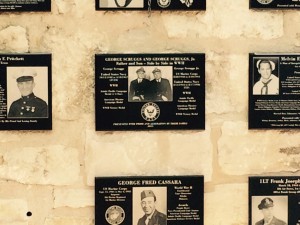 We have come to honor two of them, who happen to be Tim's and my father and grandfather. According to family lore, Dad joined up first being about eighteen years old. My grandfather, who was too young for World War I and forty years old when the war broke out, followed later. Apparently, he did not want to stay home while his eldest son fought.
My grandfather died before Tim and I were born. We know that he served in four campaigns in the Pacific and earned a Purple Heart. He died at about 49 with shrapnel still in his body. My father did not like to talk about the war. I have only a few memories of things that he said. After the war my father met my mother and served as an FBI agent until retirement. After he retired he was a city councilman and mayor of Springfield, Missouri. He spent all his adult life serving his country and community. He did not like violence, although he had two occupations, soldier and FBI agent, where there were always the danger of violence. In the midst of this, he was a peaceful guy.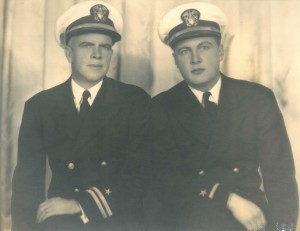 I believe my grandfather was a hero and probably knew it. My father on the other hand never thought of himself as a hero. Not long ago, on The Military History Channel there was a program concerning Iwo Jima. They returned a number of survivors to the island. When the commentator described them as hero's to a man they declined the honor. One ex-marine put it this way, "I am not a hero. The heroes never left this island." I think my father felt this way about his own service.
In dedicating this plaque, we honor two members of the greatest generation who in a moment of danger to our nation and its freedoms gave up the comforts of home, went to war to protect our freedoms from a threat, and then returned home to build the nation they loved. Millions of young men and women did the same thing during World War Two. They are all heroes, and they should be remembered and honored for what they accomplished.
Today, our family remembers Dad and Granddad. I hope our children and grandchildren will remember them and their sacrifice. As the psalmists knew long ago, those who forget their family or national story are doomed to lose it. Those who remember the faith and deeds of their ancestors have a better shot at maintaining the legacy of their faith and faithful deeds. Our parents and grandparents were not perfect; but we owe them a lot and should honor them.
Let us pray."