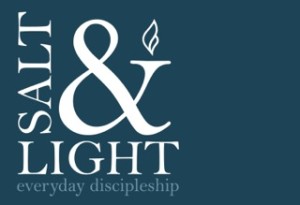 My wife and I have had a life-long and ministry-long interest in evangelism and discipleship. Recently we published a study guide and workbook called, Salt & Light: Everyday Discipleship. [1] The study is an attempt to provide interested Christians with some of the reasons why America desperately needs ordinary Christians to join a Disciple Making Movement (DMM) and share the Good News as well as one training method to accomplish this goal.. The Great Commission was not given to just twelve first century men, or just to professional clergy, or just to exceptionally gifted laypersons. All  Christians are commanded by Scripture to share the Good News of Christ with others and make disciples of those who respond.
Salt & Light is but one of many ways to share the Good News. The book I am now writing shares the theory behind any Disciple Making Movement, and Salt & Light in particular. It is hoped that interested people can more effectively lead disciple making small groups, including Salt & Light Groups.
Early in the book, the reason for its title becomes obvious: In the 1930's the German theologian, Dietrich Bonhoeffer, wrote his classic, "The Cost of Discipleship" in which he spoke about the dangers of Cheap Grace. [2] Today, we face a Crisis of Discipleship. As a friend put it to me recently, "We have already lost an entire generation in the Church, and we are in danger or losing another." One of my mentors in ministry, co-pastor  and friend, Dave Schieber, used to say, "the Church is always only one generation from extinction." The church in America and in the West generally is in bad shape. This problem can only be addressed as individual fellowships of Christians become committed to following Christ and sharing his love with a broken world.
For the next twenty weeks or so, chapter by chapter, I intend to share Crisis of Discipleship on this blog. Please read and respond. I intend to be more conversational in responding to comments—and I intend to incorporate comments and corrections into the final draft.
Join with me in a conversation as we seek to think about ways to communicate God's love to others in our culture.
Chris
Copyright 2017, G. Christopher Scruggs, All Rights Reserved
[1] G. Christopher Scruggs with Kathy T. Scruggs, Salt and Light: Everyday Discipleship (Collierville, TN: Innovo Publishing, 2017). The book can now be advanced ordered. It will be released in May.
[2] Dietrich Bonhoeffer, The Cost of Discipleship Rev. Ed. (New York, NY: Collier Books, 1963).