Both my parents have died in the years since I came to Advent Presbyterian Church. About three years ago, my mother died. Dad  died years before. Mom and Dad were members of a small Presbyterian church in Springfield, Missouri. That church was the center of our lives as I was growing up. We were active in Sunday School, worship, youth group, and the ministries of the church. The fellowship and friendship of Westminster Presbyterian were among the most important formative aspects of my childhood and youth. Although I strayed from God during my college years, by midway through Law School I was beginning my long and painful trip back to God. I returned to God during my first year practicing law.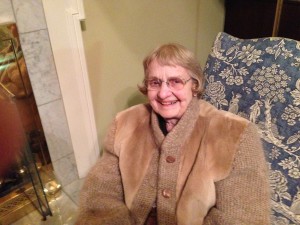 In the years leading up to Mom's death, Westminster aged and declined. Nevertheless, Mom was a constant giver to the church. Until the day she died, she gave generously to Westminster. Occasionally, she made special gifts so that the church could afford something the leadership felt was needed. Tim and I did not always agree with the purchase, but Mom was always adamant about helping. The only specific request she made before she died was that Tim and I pay off her pledge and give something from her estate to Westminster. Her final gift made possible a special project of the congregation.
Mom grew up on a farm; Dad was an FBI agent. They were hit by an uninsured motorist early in their marriage. The result was financial ruin. They worked their way back from the debts of Mom's long hospitalization, put two boys through college, helped one get through law school, and saved every day of their lives. Mom was giving and saving more than ten percent of her income at 94 years old, just a few weeks before she died. Along the way, for fifty years, Mom and Dad supported Westminster. In good times and bad times. When the church was growing and when it was declining. Mom and Dad still gave. Like many depression era people, my parents were frugal and careful with their money.
Generosity is an important Christian virtue. It is also a virtue in decline. This week I read an article that disclosed that American generosity has been in decline for more than the past 50 years. It is interesting that the decline in American generosity parallels the decline in Christian faith. The problem is not getting better. It is getting worse.
A Community of Generosity.
At the beginning of Acts, we are given a picture of the life of the early church (Acts 2:42-47). We see that the early church was Biblical and gospel centered. The people listened constantly to the apostles' teaching. The early church was a vital community of love. They shared their lives in deep ways. The early church was filled with the Holy Spirit, and miraculous things happened. One aspect of this miraculous Spirit-filled fellowship was that it was generous. The world saw the love and the generosity of the early church, and the result was growth. We see the generosity of the early church described again in Acts 4, where Luke records the following:
All the believers were one in heart and mind. No one claimed that any of their possessions was their own, but they shared everything they had. With great power the apostles continued to testify to the resurrection of the Lord Jesus. And God's grace was so powerfully at work in them all that there were no needy persons among them. For from time to time those who owned land or houses sold them, brought the money from the sales and put it at the apostles' feet, and it was distributed to anyone who had need. Joseph, a Levite from Cyprus, whom the apostles called Barnabas (which means "son of encouragement"), sold a field he owned and brought the money and put it at the apostles' feet (Acts 2:32-37).
Let us pray: Generous God, fill us with your Spirit. Fill us to overflowing. Allow us to become little Christ's filled with the life of our Lord. Amen.
The Spirit of Generosity.
This  blog is based on my last stewardship sermon at Advent Presbyterian Church. Nevertheless, it is more than a stewardship sermon. This is a blog about the power of the Holy Spirit to transform our lives to make us more wise and more loving.
On Pentecost, God sent the Spirit upon the church in Jerusalem. Before Pentecost, the believers had been living together in a kind of community of prayer, Bible study, and love (Acts 1:12-26). On Pentecost, that community of love became a gift to and  for the entire world. By the time Luke wrote Acts, the Gospel had spread throughout the Roman Empire, and a new generation of leaders was emerging as the original disciples passed away.
Paul was probably in custody of some kind when Luke wrote Acts. [1] When Luke looked back at the first Christians, he recorded their memories of the transformational fellowship that characterized the early church. The Christians that experienced Pentecost experienced a wonderful, life-transforming fellowship brought about by their baptism by the Holy Spirit. The early church was evangelical. It was socially active. It was caring. The life of the early church was so different than what people were accustomed to that the people of Jerusalem were astounded.
One area in which the people of the early Church were different than the surrounding culture was in the area of generosity. The early Christians were generous; to their own members (Acts 7), to surrounding churches, and even to churches that were distant from them (2 Cor. 7-9).  This was so unusual in the Greco-Roman world that people took notice.
Jesus and Generosity.
It has been said so many times that it almost does not bear repeating, but Jesus spoke a lot about money and generosity. [2]
For example, one day Jesus was at the temple praying and watching what was going on. He saw rich people giving large sums of money and then a poor widow who only had a mite (a very small sum). He announced that the woman who gave the mite was more generous because she gave much more as a percentage than did the rich people (Luke 7:9). Jesus spoke about the dangers of wealth in the story of the rich young ruler, who was a good and generous person and an observant Jew, but who was in love with his money and could not bear to give it up (Matthew 19:16-30; Mark 10:17-31; Luke 18:18-23). Jesus spoke about the greed of the Pharisees, which they masked by a hypocritical public display of righteousness (Luke 11:42).
In Luke, just after Jesus teaches his disciples how to pray, he discusses God's generosity (Luke 11:1-13). He put it like this: Suppose on of us had a friend who came around midnight and asked for three loaves of bread. Probably, even though we were put off by it and did not want to do it, we would get up and see what would could do just because he had the audacity to come and ask. If one of us had a child that asked us for a fish, we would probably give it to him. We certainly would not give our child a poisonous snake! Then, Jesus gives the punch line: "If you then, though you are evil, know how to give good gifts to your children, how much more will your Father in heaven give the Holy Spirit to those who ask him!" (Luke 11:13).
God is a generous and loving God and can be trusted to generously give us the Holy Spirit, and other good gifts if we only ask. For example, in the New Testament,  Jesus repeatedly does miracles in response to requests for healing. If we are going to become like Jesus, then we need to think about how we can ask God to send us the same Holy Spirit (the Spirit of Jesus) that transformed the lives of the earliest disciples and made them, among other things, generous.
Principles of Generosity.
This is not the place to give a complete outline of Jesus' teachings on stewardship of the full extent of the Old and New Testament teachings on the subject.. What I want to do in this blog is outline a few basic principles we glean from the Bible:
Be Humble. Last week we looked at Proverbs, and especially at the theme of Proverbs which is that a deep, awe-filled respect for God, for the power, wisdom, and goodness of God is a prerequisite for wisdom (Psalms 111:10; Proverbs 1:7, 9:10).  Humility and and a deep respect for God allow us to experience a deep faith and trust in God. The first step to generosity is understanding just how great and generous God is!
When we recognize that all we have, life itself and all the blessings of life, are from God, then we will be struck with awe and be able to love and trust God. When we are humbled, and recognize how imperfect and how flawed we are, we understand that we need God's grace. When we realize we need God's grace, we cry out to God, and God sends his love upon by the Holy Spirit—and then we have taken the first step towards become as generous as God is generous.
Give Yourself Fully to God. In Acts, we learn that our attitude about money is not the only thing that God uses the gift of the Holy Spirit to change in us. When we give ourselves fully to God and are filled with the Holy Spirit, God makes us wiser and more interested in his Word. God empowers us to pray. God gives us other people, the Body of Christ, to love and care for. Perhaps most importantly, God gives us Spiritual Gifts to share with others and build up the Body of Christ (I Cor. 12). God desires to see all that we are and all that we can be fully and completely devoted to Him.
Recognize the Power and Potential of Money. When I was a young Christian, I read a book by a French Christian called "Money and Power." [3] The basic message of Money and Power is this: Money is power; and money not only gives us power, it has power of over us. Our lives can be warped and controlled by money and the love of money, however much or however little we have. Until we become aware of the power of money for good and for ill in our lives, money will control us, sometimes unconsciously, and often in destructive ways.
Become a Good Steward. Once we realize that we need the grace of God, that all we have and all we will ever have (however hard we worked for it), then we come to another conclusion: God is the owner and we are his stewards. One way we break the power of money over our lives is by realizing we aren't the real owner of our possessions. God is. Once again, this is one of Jesus' favorite points to make, and he uses this point to make a lot of other points. He often refers to God as like an absentee landlord who turns over his properties to his servants (stewards) and lets them run things in his absence (See for example., Matt 24:45-51; Lk 12:42-48 Matthew 25:14-30; Luke 19:12-19, 27). When God is the owner and we are only giving away someone else's wealth, giving gets a lot easier!
We will never be good stewards until we get our financial affairs under control. Kathy and I are reasonably good managers of our finances, but that has not always been the case nor is it always the case even today. Just last week, we learned of a mistake we had made that involves our finances. Being a good steward requires constant life-long work. People need to learn to budget when we are young, when we have our families, when we retire, and when we are near the end of life. The challenges and the dangers of each time of life are different and there is not a time when we don't need to learn more. There is never a time in life when we don't need to exercise financial discipline. Discipline does not just mean not purchasing wasteful or unnecessary things; it means learning when we cannot afford nice, good, and even necessary things. Spiritually speaking, learning to be simple in our wants and needs is part of becoming a wise steward.
Generosity is Part of our Love Transformation.
Often stewardship sermons focus on tithing. I do not mean by this blog to indicate that tithing is unimportant. It is. However,  underneath any Christian idea of giving is the notion that, as God so loved the world that he gave his Only Son for our salvation, and as God has given to each of us life and all the blessings of life because he loves his creation and each of us, so also, we are given by the power of the Holy Spirit the capacity to become a part of God's community of self-giving love. That community of self-giving love will change us in a lot of ways. One of the ways God is going to change us is in how we view giving and in how generous we are.
Some weeks ago, our small group talked about giving and generosity. In the lesson, Kathy writes the following:
"Dear Reader:
I like this little ditty: 'A greedy heart cannot be satisfied. A grateful heart cannot be robbed.' Greed. Gratitude. Generosity. Grace. Four 'G' words that explain it all. "We love because God first loved us (I John 4:19)." He gave us the garden; he gave us our first clothes; he delivered us from slavery; he gave us the law for our protection; he gave us a Savior. He has taught us to be givers, if we will only respond.
When we left Houston for seminary, friends came forward to support us with their finances. It made me cry. It also made me quit spending in areas that were not necessary. The generosity of our friends was humbling. At some point, I recognized that I had given up most of my personal dreams (many of which were materialistic and not in Jesus' interest). The more I gave up, the easier it was to give away.
Around this time, I began supporting Casa MAMi MX. Sister Elma began the ministry over twenty years ago simply by sharing the gospel and feeding people on the streets of Reynosa, Mexico. Today, the home houses street children; has a day care, school, and parent education program. When gifts are received, there are two important things that happen: Sister Elma teaches the children that God touched hearts to send gifts so they praise God and ask God to bless the givers; Secondly, they share their blessings with poor people living the garbage dump. The children learn to be grateful and generous. God gives us opportunities to practice generosity every day.
Peter understood this: "I have no silver and gold, but I give you what I have; in the name of Jesus Christ of Nazareth, walk. (Acts 3:6)." [4]
Amen.
Copyright 2017, G. Christopher Scruggs, All Rights Reserved
[1] Luke and John Mark probably wrote their gospels and Acts just about the time Peter and Paul were martyred somewhere near the year 64 A.D. The first draft of Acts was probably created while Paul was under house arrest in Rome.
[2] Howard Dayton, founder of Crown Financial Ministries together with a friend, recorded the number 2,350 verses that refer to money and possession in the Bible. I have a copy of the list. This number has been disputed, and may contain numerous quotes that are only metaphorically about money. See, Crown Financial Ministries at www.crown.org.
[3] Jacques, Ellul, Money and Power Reprint. (Eugene OR: Wipf & Stock, 1984, 2009). This book is not easy to read, but it is very good.
[4] See, Chris and Kathy Scruggs, Salt & Light: A Discipleship Curriculum (Collierville, TN: Innovo Publishing, 2017) (In Process). We hope that this curriculum will be complete in the next few weeks.