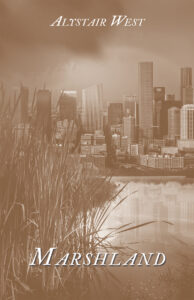 This week, I am taking another break from the usual blog alternating philosophy, theology, public life, and discipleship to briefly review a new, just-published novel, Marshland, written under the pen name Alystair West. The primary plot line goes like this: in the 1980s in Texas, a young attorney stumbles into a mystery unfolding on various levels—personal, legal, political, moral, and spiritual. A plane crashes in a storm, leaving two people dead. The event threatens an important transaction for Arthur Stone's law firm. Worst of all, his life, the lives of others for whom he cares, and his career may also be at risk.
The mystery involves members of a prestigious law firm, family members, a special forces officer, drug dealers, high-level financiers, local and other business people, and the intelligence community. The trouble begins off the coast of Africa, where a hurricane is forming, then moves to central Mexico, Houston, and San Miguel de Allende. Beneath the apparent, earthly and unearthly powers appear to be working with unknown intent. Only time will tell whether those involved will emerge whole.
The mid and late 1980s in Houston, Texas, were a time of financial crisis when excessive lending and risk-taking devastated an entire industry. Changes in tax laws, a deep recession, financial deregulation, and other factors led to a massive crisis. The overconfident lending and financial wheeler-dealing that characterized parts of the banking crisis in Texas have been repeated many times in American history before and since in Texas and elsewhere. One interesting question is, "What is in human nature that encourages these kinds of problems?"
In Marshland, Arthur Stone and a diverse cast of characters encountered death, betrayal, and perhaps emerging faith.  Marshland is currently available through the following outlets:
WestBow Press (best royalty for the author):
https://www.westbowpress.com/en/search?query=Marshland
Amazon:
https://www.amazon.com/Marshland-Alystair-West-ebook/dp/B0C7KCPF7X/ref=sr_1_8?crid=14GT3GHXYYEUF&keywords=Marshland&qid=1686420735&s=books&sprefix=marshland%2Cstripbooks%2C97&sr=1-8
Barnes & Noble:
https://www.barnesandnoble.com/w/marshland-alystair-west/1143613106?ean=9781664298200
Why write a book like Marshland? There are many reasons.
The author's previous books were generally theological or biblical, of a genre that might be called "Popular Practical Theology." Books like Centered Living/Centered Leading: The Way of Light and Love (2010), Path of Life: Wisdom Literature for Christ-Followers (2014), and Crisis of Discipleship: Renewing the Art of Relational Disciple-Making (2022) were written for Christians, and perhaps more importantly, for more or less mature Christians willing to look into a subject a bit more deeply than popular Christian books generally take a reader. Marshland is an attempt to reach a more diverse group of readers.
Secondly, the author has loved the work of the Inklings, Owen Barfield, C. S. Lewis, J.R.R. Tolkien, and Charles Williams. In particular, Lewis, Tolkien, and Williams had a significant impact. The author wanted to take a stab at writing something like the "spiritual shockers" for which Williams is famous, and the Space Trilogy, for which Lewis is known. This was a chance to create an imaginary world that might draw non-believers into becoming interested in what it might mean to be a Christian.
Third, the author has been both a lawyer and a pastor over the course of his professional life. As many people remind me, these two professions are at least popularly seen as divergent. Yet, both professions deal with human beings and human problems. Both give a person an insight into human nature (not always good) and how difficult life can become for people caught in difficult and damaging situations. Marshland draws this apparent diversity into some unity. (If the series continues, this aspect will become more and more apparent.)
Finally, the author wanted to write a murder mystery with a spiritual message. Marshland is just a novel. The characters, murders, transactions, and plot are all fictional, but the spiritual and moral quandaries in the book are not imaginary. They are genuine, and they impact us every day. We confront the "powers and principalities" every day of our lives. We like to think that if we ever faced the temptations others face, we would act differently, but human history tells a different story. We all have feet of clay.
Over time, the fiction I have read is almost as important as history and theory in understanding how human beings make many more significant and lesser mistakes of judgment. We are all finite and fallible—a bit worse than merely finite and fallible. In fiction, we can see ourselves and our culture more clearly. These "Path of Life" blogs are designed to help people walk through day-to-day life's challenges, difficulties, opportunities, successes, and failures more wisely and successfully. Ultimately, that is what the author of Marshland wanted to do.
Blessings to all my followers and friends!!!